The Devon Meat Box Company is owned and operated by us (Julie and Bela) and was created as a sister company to our award winning first venture (Veg in a Box) to supply the lovely public with the finest locally sourced meat available, delivered directly to their door.
We did an interview with Eating Exeter recently which goes into more detail as to who we are and what we do, which you can read below. But if you have any questions at all don't hesitate to get in touch or if you're in the area, pop in and say hi!
Julie and Bela
1. Who is behind Veg in a Box and where are you based?
The business is a real labour of love for me and my partner Bela.  It's lucky that we get on so well as we do everything ourselves – picking and sourcing the produce, ordering, marketing, customer service. It's really important for us to be available for our customers whenever they need us so it's pretty much a 24/7 operation. There's not much time for sleep! We recently moved to new premises in Courtway Farm, Clyst St Mary. We're still settling in but we really love it there.
2. Has this always been your job?
No, we've had a real change of career! Before starting Veg in a Box we were actually property developers with a property maintenance group. I made my first fruit and veg box as a gift for a friend. I collected the produce from local farms. I thought it looked pretty good so I posted a photo of it on Facebook. By the end of that day, I had 25 orders and by the end of the week I had 90 orders! That persuaded me that it was time for a change of direction. Bela and I started making the boxes in the spare bedroom of our tiny cottage. One day I was passing Darts Business Park and spotted Dartfresh produce, a fruit and veg wholesaler. It must have been fate. I went in and met with the owner, John Pritchard. He offered me a space to rent that same day and has mentored me ever since. He has 30 years' experience and really knows his stuff – I'll always be grateful for his support.
3. Describe your typical day.
We're up at 3am to pick up supplies for the boxes – there are no lie-ins in this business. The first thing I do each morning is check my inbox for overnight orders while Bela deals with the important work – feeding our cats and making the coffee!
We drive to the farm, where we put away any deliveries and start bagging up mountains of potatoes. Bela heads out to collect more produce from our wonderful, local suppliers. Then we start making up the boxes ready for Bela to deliver. By the time he gets back I have another batch ready for him – I like to keep him on his toes! We normally get home about 7.30pm but business continues – I carry on answering customer enquiries and placing all of our orders with our suppliers ready for the next morning.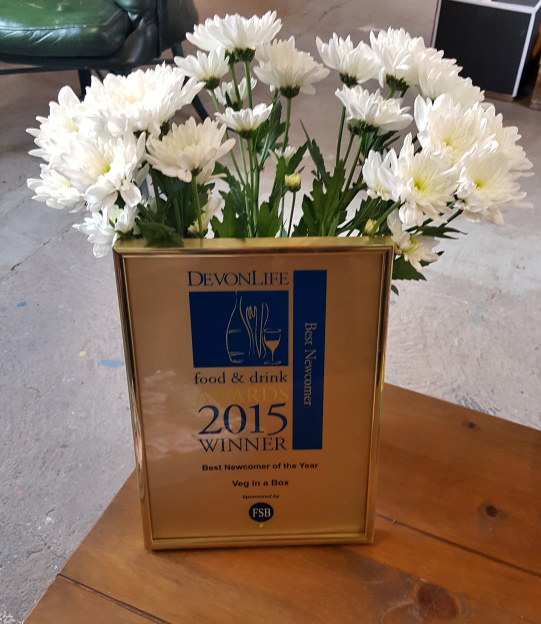 4. You won an award in 2015, tell us more…
Last September, we decided to take a very rare day off and go camping. I wasn't planning on answering my phone but one caller was particularly persistent so I relented and was very glad I did. It turned out to be a representative from the Devon Life Food and Drink Awards inviting us to their ceremony. A few weeks later I received a posh invitation telling us that we had been shortlisted for 'Best Newcomer'. I actually burst into tears! We were up against some very well established businesses and I didn't think we had a chance of winning – I was happy just to be nominated. When we actually won, it was like a dream come true. It made all of those early mornings worthwhile.
5. Where do you get your lovely produce from?
High quality produce is the lifeblood of our business – we want the best for our customers so we're lucky to be surrounded by wonderful, local farmers where we live in Devon.  We source as much of our produce from Devon as we can. My mentor, John, from Dartfresh has put us in touch with some excellent local suppliers. Our neighbour, Michael Thorne, provides a lot of our tasty vegetables and the rest come from farms in East Budleigh and Yeoford. Our delicious apples are from Four Elms farm. We've just started getting our salads from a new producer just outside of Bradninch and we're meeting with local community growers to plan some lovely salads for the summer. We've also just had our first field planted with greens for the months ahead – I never thought I'd be so excited about a field!
For our meat boxes we have gone out and sourced all local meat suppliers ourselves. We've been and inspected the farms and have built great foundations with local farmers and smallholders to ensure a steady quality supply.
6. What type of boxes do you make and approximate price range?
Today we have around 40 different boxes. But that can change quickly – sometimes I wake up feeling inspired and have a new box available online within a few hours! Our lowest priced box is a Child's Fruit Box at £15 and then a medley of fruit, veg and salad boxes ranging from £20 to £65. Our Deluxe Box (£45) is a customer favourite, it holds 12 free range eggs and as much fruit, veg and salad as I can squeeze into it – it's a real whopper! Locally sourced meat boxes range from £55 to £65. We have a new range of meat boxes in development for those in training or following a particular diet or nutritional plan which I hope will be very popular.
7. So what are your overall plans?
Now we have our HQ up and running, we plan to grow Veg in a Box significantly. We're going to focus on letting people know who we are and what we do. We'll be attending as many local fêtes, shows and festivals as we can – really getting ourselves out there. We've just commissioned the Prop Factory to help us get noticed at festivals so the next few months should be a lot of fun.
We're also are going to continue to do as much fundraising for our chosen charities as we can. With the help of our generous customers, we've raised thousands of pounds for Hospice Care which we were thrilled about.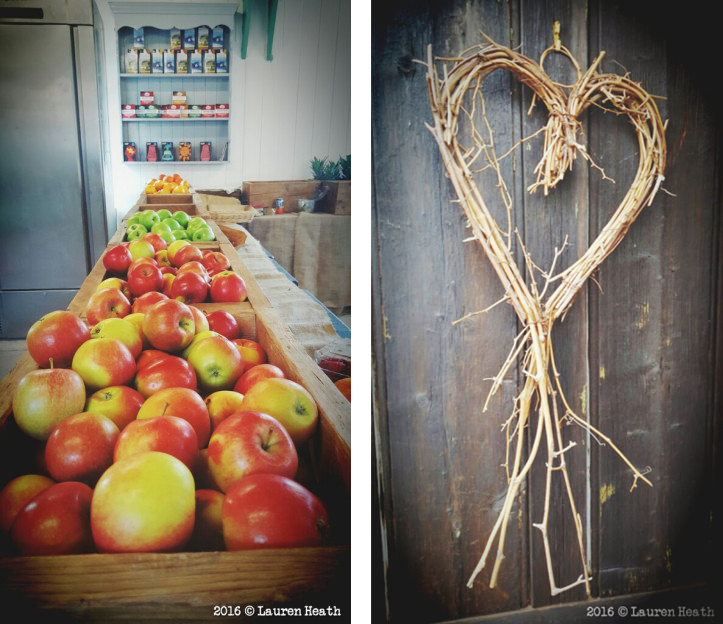 8. What makes you different from other veg box schemes?
We must be the only one that is totally run by just two people. I think that makes us unique (and exhausted!). It means that we really know our customers, their families – even their pets! We make our boxes fun – we have themed boxes for every occasion imaginable. We're even launching a kids master chef box soon which we hope will encourage children to have an interest in where their food comes from.
9. Tell us something funny, random or interesting!
Cats love our deliveries as much as their owners. Bela is so crazy about cats that he keeps cat food and treats in our delivery van. When we pull up, our customer's cats are always the first to give us a friendly welcome!